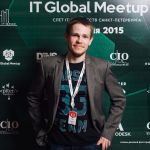 Nikita Efimov, New Cloud Technologies
October 28, 2016
2 hours
In Russian only
Attendance is free for the conference participants
We'll try in practice a canvas that I always use when such idea comes: "Let's add this feature to our product. It's realy cool idea". This canvas allows you to keep in mind your users while analysing incoming ideas (and sometimes to throw away inappropriate at the moment). It's also a good facilitation tool for team discussions.
About master-class instructor
Nikita Efimov
Lead UX architect, New Cloud Technologies
More than 10 years played different roles in Software Development: developer, project manager, UX designer. During this time he has worked both in product and outsourcing companies on different projects: from compilers to mobile apps with augmented reality. Last 5 years spent for UX design and product management.
He is also a UX coach.