Dear Participants!
Tour operator Reisebuero WELT (Federal Tour Operator Number MVT-000070, quality certified company ISO – 9001) is an official partner of Central & Eastern European Software Engineering Conference in Russia.
We offer you to book travel service for the special rates: accommodation, transport and excursions services.
Electronic booking form – here you can book the hotel and other services online.
Important:
No extra charges for hotel's booking!
Free visa support for foreign visitors!
If you have any questions, please, contact Julia Tishkova at tjn@msk.welt.ru, tel.: +7 (495) 933-78-78, ext. 173.
Reisebuero WELT office works 24 hours 7 days a week.
Hotels
Park Inn SADU Moscow, 4****
17 bld. 1, Bolshaya Polyanka str. map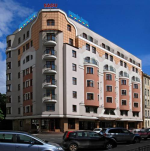 The Park Inn SADU Hotel, the first Park Inn opened in Moscow, is located not far from the Polyanka metro station in Zamoskvorechye, one of the central districts of the capital. The nearest places of interest are the Tretyakov Art Gallery, the Kremlin and Red Square, the Christ the Savior Cathedral. It will take you ten minutes to reach them afoot. The Park Inn SADU Hotel is a member of the Rezidor SAS worldwide hotel chain, and so it adheres to international standards of services. All guest rooms are abundantly equipped (an air conditioner, a minibar, a safe, a telephone, television, access to the Internet), supplied with exclusive furniture and have a beautiful view of the city's historical sights. Bathrooms are fit out with a comfortable bathtub, a hair-drier and a complete cosmetic kit (shower gel, soap, shampoo, hair conditioner, tooth-brush, tooth-paste, comb).
27 – 28.10.2016: 8680 / 9980 RUB per night (single/double occupancy) including breakfast and VAT
28 – 29.10.2016: 5280 / 6280 RUB per night (single/double occupancy) including breakfast and VAT
Holiday Inn Sokolniki, 4****
24, Rusakovskaya str. карта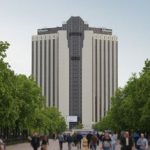 The Holiday Inn Sokolniki Hotel is located in the North-West of Moscow that is a few minutes' journey from the business center of the capital. Close to the hotel there is one of the biggest cultural and exhibition centers of Moscow – "Sokolniki", a leisure park that bears the same name and the Lokomotive Football Stadium. 
All hotels of the international Holiday Inn chain provide world-class service that can be estimated by the Holiday Inn Sokolniki Hotel's guests. The hotel represents a perfect place for all kinds of events no matter if it is a wedding celebration or a business conference. Conference rooms (their capacity is up to 800 people) with daylight are equipped with the most up-to-date facilities. The hotel offers guests two restaurants – the Moscow restaurant for 450 persons, the ANT-25 restaurant, located on the 25th floor with fascinating view of Moscow. Fitness center of the hotel offers wonderful conditions to relax and to get positive energy.
27 – 28.10.2016: 8680 / 9880 RUB per night (single/double occupancy) including breakfast and VAT
28 – 29.10.2016: 5480 / 6680 RUB per night (single/double occupancy) including breakfast and VAT
Matreshka Hotel, 3***
3, bld. 3, Teatralny pr. map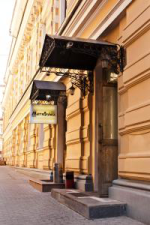 Hotel Matreshka is a low cost accommodation in the center of Moscow. A walk to the Kremlin, Red Square, the Bolshoi Theatre, famous shopping centers GUM and TSUM and other attractions of the capital will take about 10 minutes. There are 3 metro stations: "Kuznetsk Most", "Lubyanka", and "Teatralnaya" in walking distance from the hotel.
Matreshka hotel is located in a historic building dating from the XIX century. Russian-Chinese merchant Khludov baths were there. 110 hotel rooms of different comfort occupy 4 floors of the hotel. Single and double rooms without windows are suitable for a short period of stay. There are comfortable beds with orthopedic mattresses, flat-screen TVs in small rooms.
27 – 28.10.2016: 3000 / 4300 RUB per night (single/double occupancy) including breakfast
28 – 29.10.2016: 1900 / 3000 RUB per night (single/double occupancy) including breakfast
Bagration Hotel, 3***
7, Sechenovsky side street map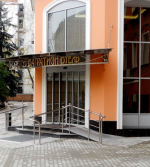 Moscow hotel Bagration is Centrally located near the underground  stations Kropotkinskaya, Smolenskaya, Park Kultury. This fact is very attractive for all guests who are going on business or for pleasure.
The modern cozy rooms are fully equipped with all necessary for a comfortable stay. There is conditioning, telephone, fridge, TV with LCD TV, safe deposit box, hairdryer.
Also Bagration Hotel provides to the guests special services such as separate room with the Ironing Board iron and microwave oven.
In addition this hotel has a conference hall "Winter garden" and meeting room with TV, high speed Wi-Fi Internet access and hi-tech equipment.
The building of the hotel is located in the cozy quiet Moscow courtyard but city center is in a walking distance.
27 – 28.10.2016: 6080 / 7480 RUB per night (single/double occupancy) including breakfast and VAT
28 – 29.10.2016: 5180 / 6280 RUB per night (single/double occupancy) including breakfast and VAT