The device mesh refers to an expanding set of endpoints people use to access applications and information or interact with people, social communities, governments and businesses. The device mesh includes mobile devices, wearable, consumer and home electronic devices, automotive devices and environmental devices — such as sensors in the Internet of Things (IoT).
"In the postmobile world the focus shifts to the mobile user who is surrounded by a mesh of devices extending well beyond traditional mobile devices," said Mr. Cearley.
Monolithic, linear application designs (e.g., the three-tier architecture) are giving way to a more loosely coupled integrative approach: the apps and services architecture. Enabled by software-defined application services, this new approach enables Web-scale performance, flexibility and agility. Microservice architecture is an emerging pattern for building distributed applications that support agile delivery and scalable deployment, both on-premises and in the cloud. Containers are emerging as a critical technology for enabling agile development and microservice architectures. Bringing mobile and IoT elements into the app and service architecture creates a comprehensive model to address back-end cloud scalability and front-end device mesh experiences. Application teams must create new modern architectures to deliver agile, flexible and dynamic cloud-based applications with agile, flexible and dynamic user experiences that span the digital mesh.
Related submissions
Topic Supervisor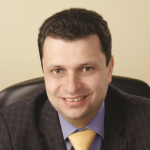 Mikhael Khassine
Senior Managing Director, SberTech