Our productivity depends on our health, energy and stress much more then from tools we use.
How to connect data flows about your health and lifestyle with your productivity KPI's and what can we get from it?
This speech is about researches maid by Welltory Inc on IT companies.
Evgeniya Smorodnikova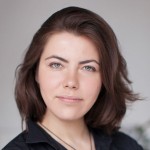 Co-founder, Welltory Inc
Evgeniya is a serial entrepreneur, ex director at Founder Institute and founder at CoffeeLab startup studio. Now Evgeniya is launching Welltory – digital health company that works on decoding our lifestyle and it's influence on our health, happiness and productivity.
Originally Evgeniya is an engineer, specialized on information security.