How our brain precess the information? How to speed up this process? How visual elements help our brain to understand the data? I will speak about my own experience in analytical dashboards development in the international pharmaceutical company, principles of proper data visualization and business problems solving using data visualization.
Alexander Kulikov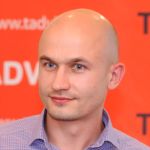 Business Intelligence Team Leader, Bayer
Graduated from MIPT. Worked at wholesale and retail business, then changed to IT and business analytics. Sometimes speak at Business Intelligence conferences.