Voldemort is an open-source distributed key value store capable of bulk loading large data sets from Hadoop. At LinkedIn, the Voldemort clusters ingest more than 100 terabytes of fresh data every day, while serving requests at sub-millisecond latency. This talk explains the Voldemort architecture, what recent improvements were contributed, and how to get started.
The intended audience is software developers interested in leveraging Voldemort in their own stack, and infrastructure developers interested in distributed systems architecture.
Felix GV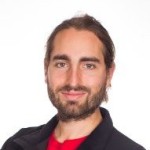 Senior Software Engineer, LinkedIn
Felix is an open-source contributor on the Voldemort key value store project. He is also involved in work that touches Hadoop, Kafka, Azkaban and other parts of LinkedIn's data infrastructure. After nurturing the Big Data community for several years in his hometown of Montreal, he decided to move to the Bay Area to further hone his expertise. His main interests include distributed systems, software architecture and performance optimization.