IBM contributes a lot to a Hyperledger Blockchain community. We've done several pilot projects with clients recently. In my presentation I will share some of the lessons we've learned.
Nikolay Marin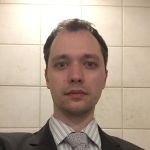 Executive Architect, IBM
Nikolay Marin is a passionate engineer and technology pioneer. He currently holds a position of an Executive Architect and Technical Leader for IBM's Smarter Cities business in Central and Eastern Europe. Nikolay graduated from Moscow State University of Civil Engineering with a Ph.D. degree.