No translation yet, sorry.
Oleg Koutyrine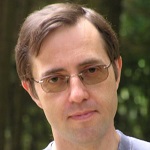 Architect, HANA Cloud Platform, SAP SE, Walldorf
Oleg started at SAP in 2000 and has worked in different areas (CRM Mobile, NWDI, NetWeaver Central Architecture, HANA Cloud Platform).
The current main activity of Oleg is enabling to transform the internal stakeholders (SAP business applications) to the Cloud, looking at the PaaS layer from the application perspective and hence helping to improve the platform.
Oleg's main focus topics are Cloud Foundry, Domain-Driven Design and microservices.
Oleg is an author (or a co-author) of several software-related patents, including "Adaptive Developer Experience for Cloud Development", "Multi-Version Systems for Zero Downtime DBMS Upgrades", "Self-documented Java-based Systems" and others.