In this lecture we consider how to use numerical control approach in a home workshop. Know how the idea of a creator turns into a product. In conclusion of the session we consider the approach of sending G-code instructions for execution on NC from high-level languages. Students learn how this method allows you to use the familiar tools and technology for many IT professionals to generate and modify control programs.
Igor Suhorukov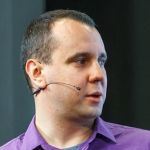 Java architect, Home workshop
I am working with Java language about 11 years and prefer integration of existing open source project if it possible instead of reinvent of bicycle.